This is custom heading element
Are you moving in with us soon or thinking about it? Welcome! Below you will find a small list of everything you need to make your move-in easier:
Register with the network early. With your assignment you can already activate your account and have access to our network from day 1. You can also create your WLAN access data directly. You also register there for the services of the house association (among others washing and printing).
Organize window shades (~60×110 cm), curtains (min. 180×160 cm) or similar. These are not included in the room equipment and increase the quality of life enormously. The sizes should be considered only as an orientation, but fit all rooms.
Since the rooms do not contain a bed, it would also be smart to bring a bed. The nearest Ikea is located in Heerlen or Cologne. Alternatively, there are also some local furniture stores. (Does not apply to program rooms)
Take food with you. Also toilet paper is often forgotten. Bring your own plates and a set of cutlery.
Optional: Read up on our pages here and give us feedback via contact form, which questions are still open.
To satisfy all of your planning needs, you will also find an exemplary floor plan here. About half of the rooms are horizontally mirrored. The information is without guarantee and in case of doubt rounded to the nearest full 5.
Exemplary layout of the room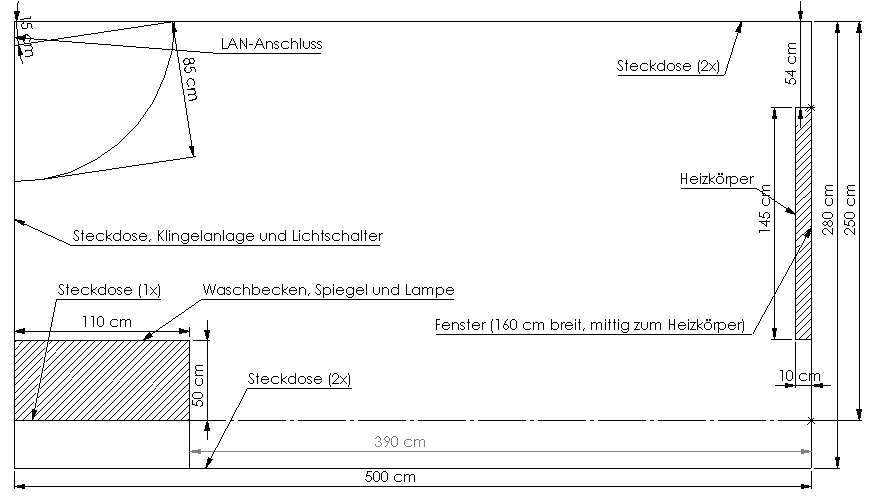 The room includes:
-desk (145×70 cm)
-wardrobe (125×60 cm)
-shelf (35×90 cm)
In already renovated rooms, the dimensions may vary slightly. In addition, a roll container is added, but it can be placed under the desk.